Leading & Working Together
Shelter is a leading property management company located in Minneapolis, Minnesota. For nearly 30 years, Shelter has been working with property owners to provide well-maintained, highly occupied rental communities in Minnesota, Florida, and Texas. With our continuing growth, we are always looking for motivated, high achievers to support our properties in a variety of roles. These include property and regional management, leasing, maintenance, finance, accounting, and human resources.   
Please take a moment to review our job opportunities.  We would love for you to join our team. 
Award-Winning Workplace
In 2016 Shelter participated for the first time in the Star Tribune Top Workplace survey. This is an award based solely on the people who know best, the employees.
Not only did Shelter receive the award, they were placed in the top 150 workplaces for 2016!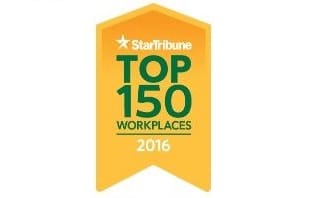 Great company to work for!
Perform at its highest level, consistently.
I feel that what I do makes a difference in people's lives. I feel appreciated by my supervisors and residents.
I feel like I matter within the company.
Fun, Fulfilling, and Great Experience!
Shelter utilizes E-Verify as part of our background check and on-boarding process. E-Verify is an internet-based system operated by the Department of Homeland Security and the Social Security Administration which allows employers to confirm an individual's employment eligibility to work in the United States.